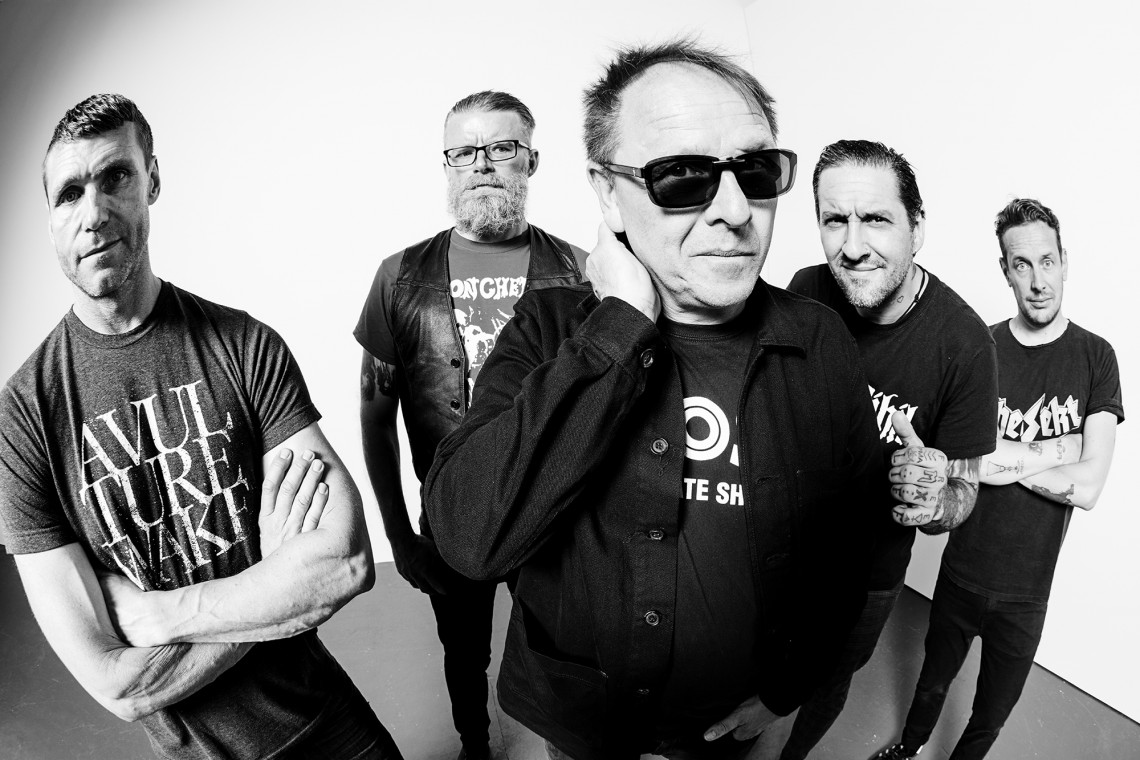 No Fun At All
Vocals - Ingemar Jansson
Rhythm guitar - Mikael Danielsson
Lead guitar - Fredrik Eriksson
Bass - Stefan Bratt
Drums - Kjell Ramstedt
As a punk band, it is one thing to ride the initial wave of youthful enthusiasm and energy. It is another to establish yourselves as a hardworking band that continues to produce records that resonate with the fans.
In the case of No Fun At All, as they come out swinging in their fourth decade as a band, there can be no doubt that they have forged their path into the canon of melodic punk rock. Since the 1991 beginning in the small, industrial town of Skinnskatteberg, Sweden, and the 1993 debut mini-CD "Vision," No Fun At All's name has become synonymous with fast-paced, infectious skate punk.

Having come up during the early o mid-90s glory days of Swedish punk, alongside Burning Heart Records labelmates Millencolin and Satanic Surfers, No Fun At All went on a mission to outlive the ebb and flow of the scene. Over the years, their sometimes somber, but always gripping melodies, have become a trademark sound. No Fun At All is proof that melodic punk can deal with serious issues, while keeping a playfulness that shines through in the celebratory live setting.
After a couple of years off at the start of the new millennium, followed by the come-back record "Low Rider" in 2008, No Fun At All found itself at a crossroads in 2017. While long-time members Mikael Danielsson (rhythm guitar), Ingemar Jansson (vocals), and Kjell Ramstedt (drums) wanted to push the band harder again, with continuous cycles of new records and tours in support of them, Christer Mähl (lead guitar) and Stefan Neuman (bass) chose to step aside. With the injection of new members Fredrik Eriksson (lead guitar) and Stefan Bratt (bass), No Fun At All found a re-energized passion for music.
Recorded in late 2017, the new line-up released its first testament to the world in the form of "Grit" the year after. The record was supported by extensive tours and festival runs, reaching Europe, Japan, Australia, North and South America.
In 2022, after a two-year delay, No Fun At All finally managed to conclude an anniversary tour together with Satanic Surfers, celebrating their respective classic albums from 1995, "Out Of Bounds" and "Hero Of Our Time."
Already counting six full-length records with combined sales in the hundreds of thousands under their belt, No Fun At All released "Seventh Wave" in October 2022. The band's second full-length with Fredrik and Stefan in the line-up, "Seventh Wave" is packed with the punk rock jubilation that fans around the world have come to expect from No Fun At All.