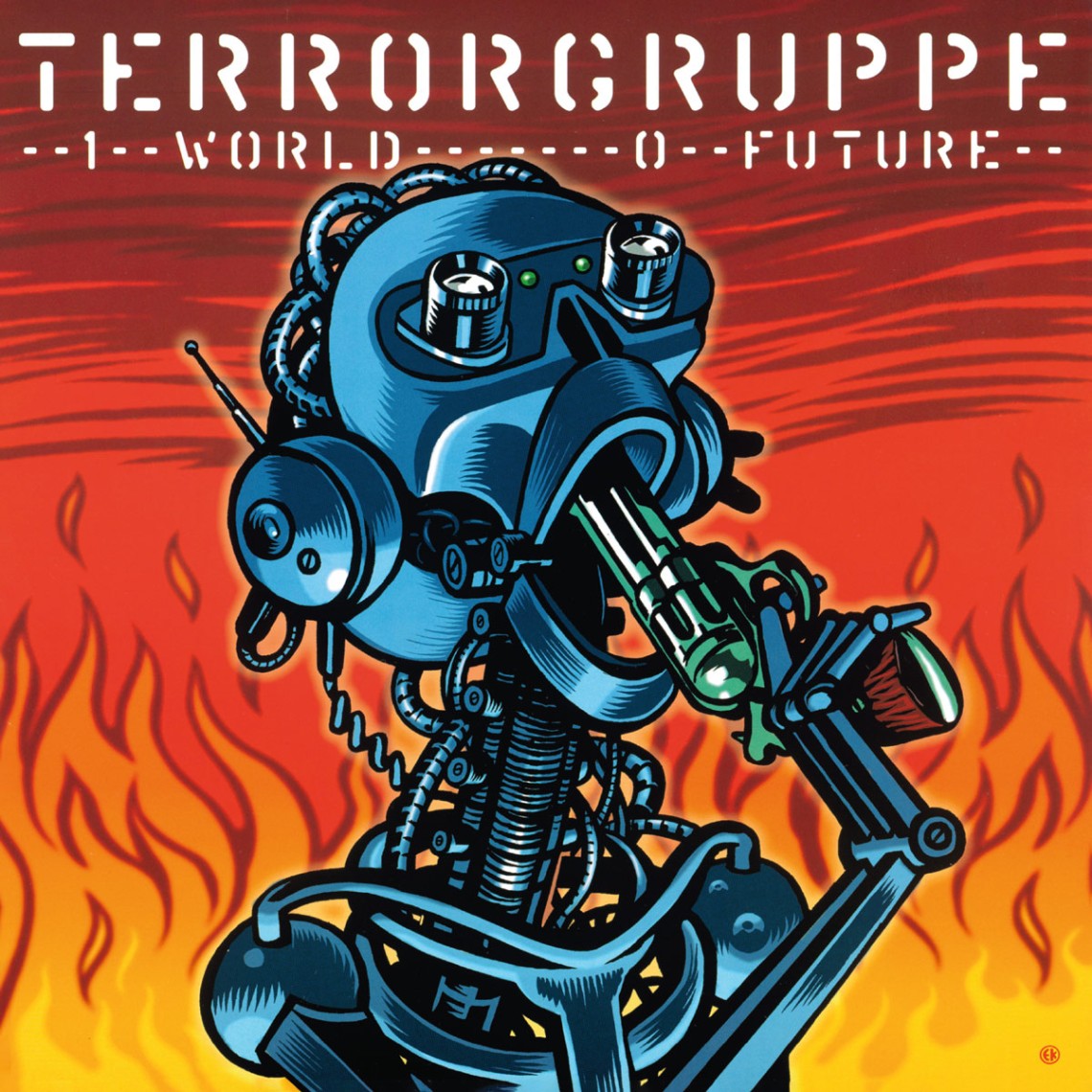 Terrorgruppe "1 World, 0 Future" DoLP Reissue
For the first time after 22 years back on vinyl - The TG classic on from 2000 !
During that year - in the deepest valley of the vinyl doldrums - only 1000 LPs were pressed and distributed, because CD was queen.
And Napster :-)
Now a limited reissue - again 1000 copies - with the TERRORGRUPPES all-time-faves "Allein gegen Alle" / "Enemy No.1" / "Videokamera" / "Das war Ihr Leben" and "Destroy the Krauts"... and for the first time including the single "Stay away from the Good Guys" from the same year.
A loving reissue in double-LP format with original artwork, bonus tracks and revised master. Almost 70 minutes of playtime, 3 of the bonus tracks have never been available on vinyl before.
500 Copies as col. red Vinyl Edition / 500 black Vinyl.
+ with the orig. Movie version of "Oi! Warning"
+ all bonus tracks of "Allein gegen Alle" EP and "Enemy No.1" EP
+ original version of "Allein gegen Alle"
+ and the demo "Methanol"

Tracklist
LP1:

1.Warm up
2.Enemy Nr.1
3.Allein gegen Alle
4.Das war Ihr Leben
5.Videokamera
6.What is wrong with the Americans ?
7.Falscher Film
8.Esoterik Lied
9.Steiner III
10.Destroy the Krauts
11.Dr. Motte
12.Pequeno Pero Malo
13.Do you Mind ?
14.Weltuntergang
15.Afterburner
LP2:
1. Oi! Warning / Stay away from the good guys Movie-Edit
2. Pubertät
3. Slackerlied
4. Love Machine
5. ACAB (All Comic Heroes…)
6. Nicht mein Land
7. Das Scheisslied
8. Methanol (Version)
9. Allein gegen Alle (Version)
10.Stay away from the good guys / Single-Edit
Info
Release Date: 28.04.2023
Catalogue No: Destiny-185 LP (under assistance of Epitaph Recs & Aggropop)
Formats: DoLP ReIssue w. Bonustracks
Streaming
Other Records